VJFX Series Auto Unloading Pulse Jet Industrial Dust Collector
Product Description
VJFX series industrial dust collector is equipped with automatic discharge system. This dust collector have features of large air volume, self-cleaning function, automatic discharge, stable and small footprint.
Applications
A self-cleaning auto discharge dust collector is

suitable for working condition with large amount of dust such as powder feeding, mixing, grinding or cutting job, wood working and so on.
Features
1.

The filter material is polyester with PTFE coated, which can filter 99.9% dust at 0.3 microns.
2. Pulse jet cleaning method for the filter makes machine to work continuously. User can set the pulse frequency depending upon the requirements.
3. Equipped with rotary discharge valve for automatic dust unloading.
4. Real-time monitoring of machine pressure changes can quickly detect whether the filter needs to be cleaned.
Structure Diagram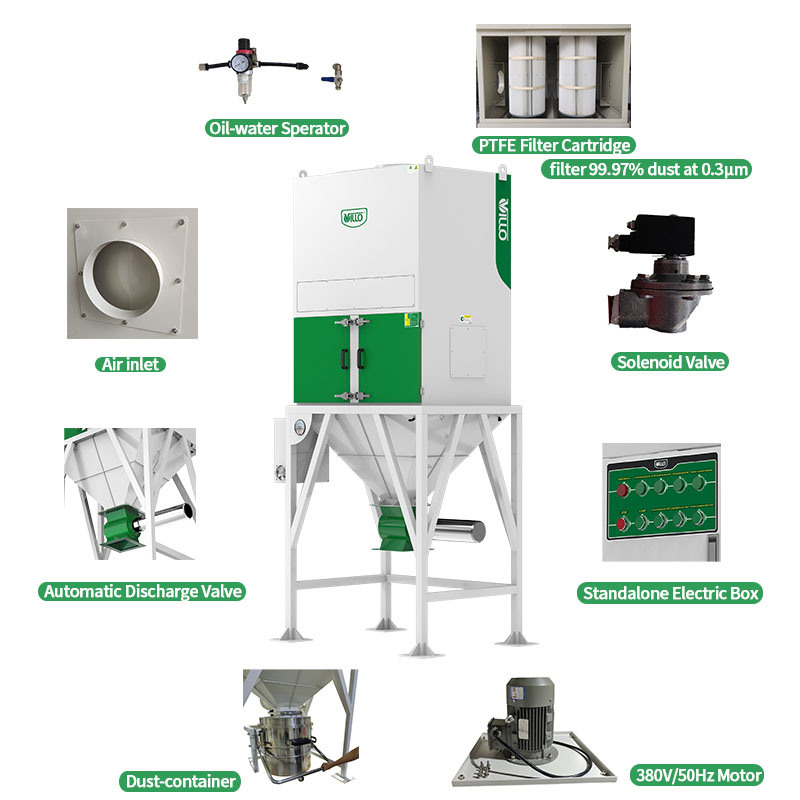 Technical Parameters
Model

VJFX-1.5

VJFX-2.2

VJFX-3.0

VJFX-4.0

VJFX-5.5

VJFX-7.5

VJFX-11

VJFX-15

Voltage(V/Hz)

380 / 50

Power(kW)/ ( HP )

1.5 / 2.0

2.2 / 3.0

3.0 / 4.0

4.0 / 5.5

5.5 / 7.5

7.5 / 10

11 / 15

15 / 20

Max air flow
(m3/h)/ ( CFM )

1500 / 883

2200 / 1295

3000 / 1765

4000 / 2354

5500 / 3237

7500 / 4414

9000 / 5294

12000 / 7059

Max air pressure
(Pa)/(mmH2O)

1800 / 184

2500 / 255

2500 / 255

2500 / 255

2500 / 255

2600 / 265

2700 / 275

2800 / 286

Filter area
(m2)/ ( sq.ft )

11 / 118.5

22 / 237

22 / 237

44 / 474

44 / 474

66 / 710

99 / 1066

99 / 1066

Filter efficiency

>99%

Dust container
capacity (L) / (gal)

According to customers' demand

Noise (dB)

71±2

73±2

74±2

76±2

78±2

79±2

80±2

81±2

Filter cleaning method

Pulse jet + Automatic discharge

Ability of discharge
(L/min) / ( gal/min)

48 / 12.7

96 / 25.4

96 / 25.4

144 / 38.0

144 / 38.0

192 / 50.7

192 / 50.7

192 / 50.7

Dia. air inlet
(mm) / (in)

Ø150 / 6

Ø200 / 8

Ø250 /10

Ø300 / 12

Ø350 / 14

Ø350 / 14

Dimension[L*W*H]
(mm) / (in)
1100*1040*2450 /
43.3*41.0*96.5
1100*1040*2750 /
43.3*41.0*108.3
1100*1040*2850 /
43.3*41.0*112.2
1200*1200*2950 /
47.3*47.3*116.2
1200*1200*3050 /
47.3*47.3*120.1
1765*1280*3200 /
69.5*50.4*126.0
1765*1680*3350 /
69.5*50.4*131.9
1765*1680*3500 /
69.5*50.4*137.8

Weight (kg) / (lb)

230 / 507

300 / 661

400 / 882

500 / 1102

550 / 1213

600 / 1323

700

750
Application Case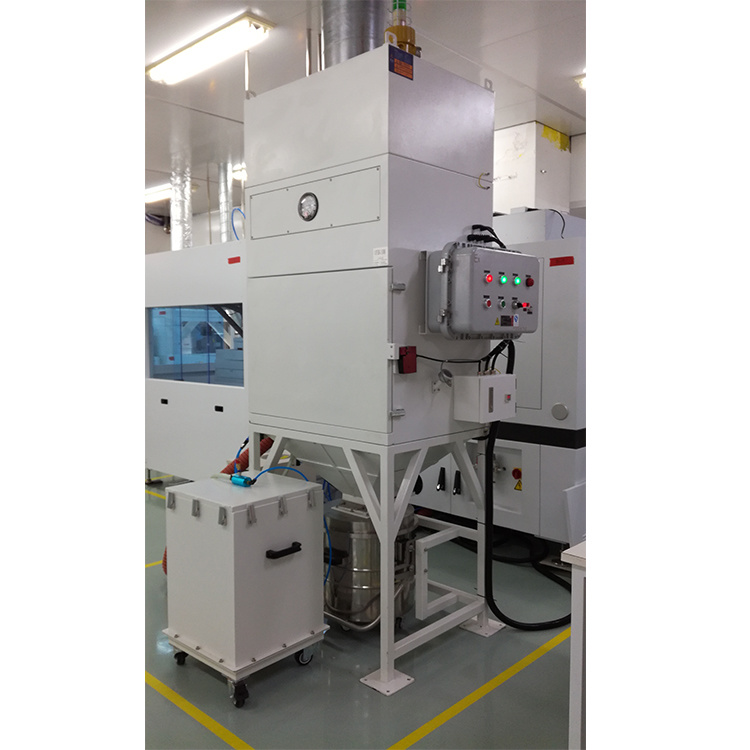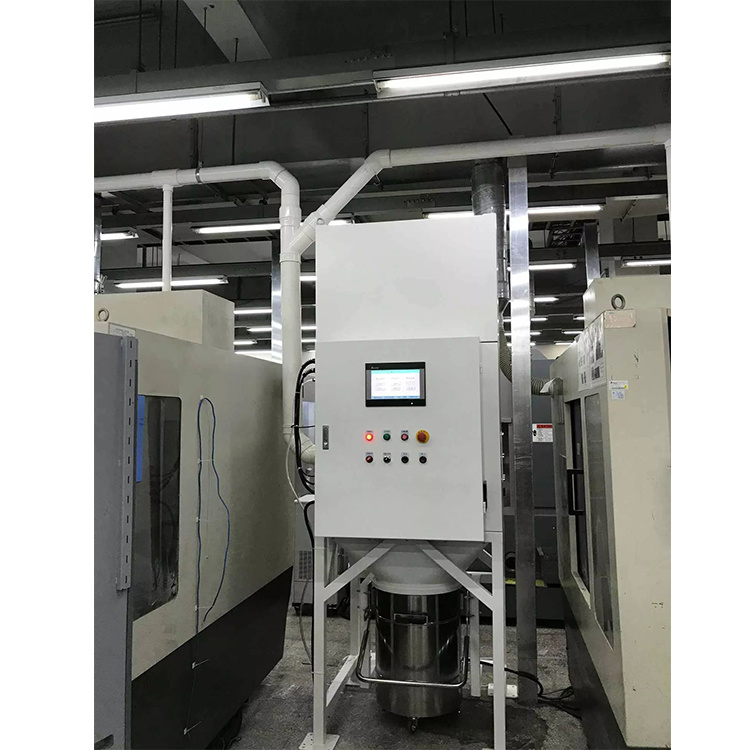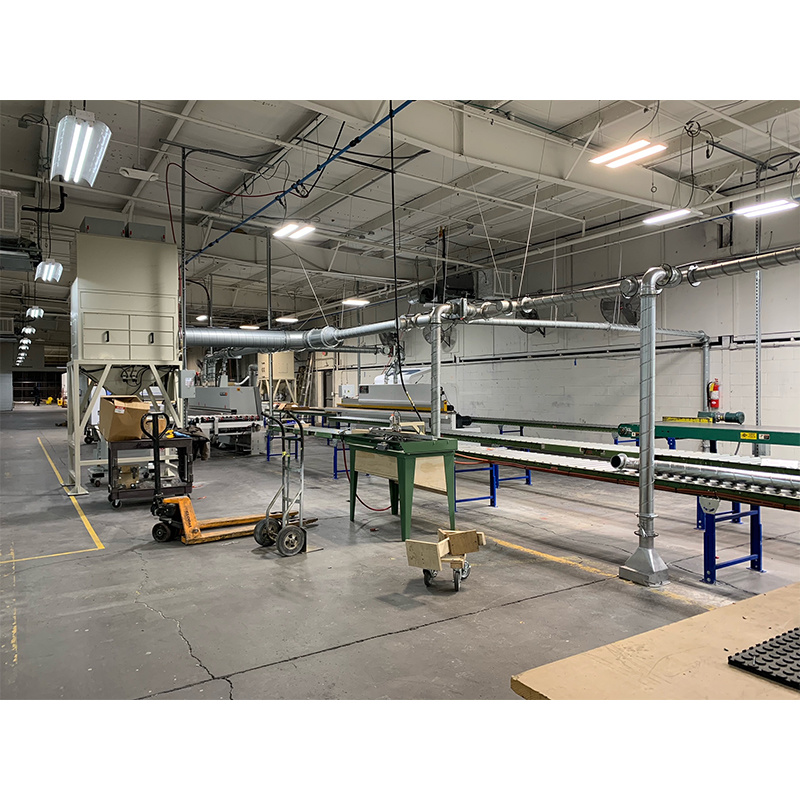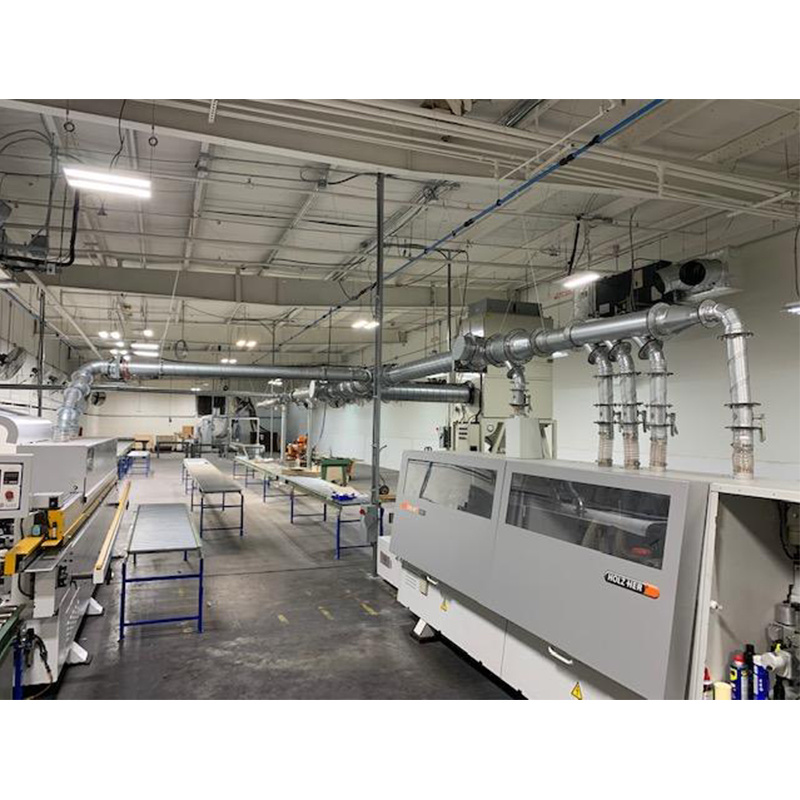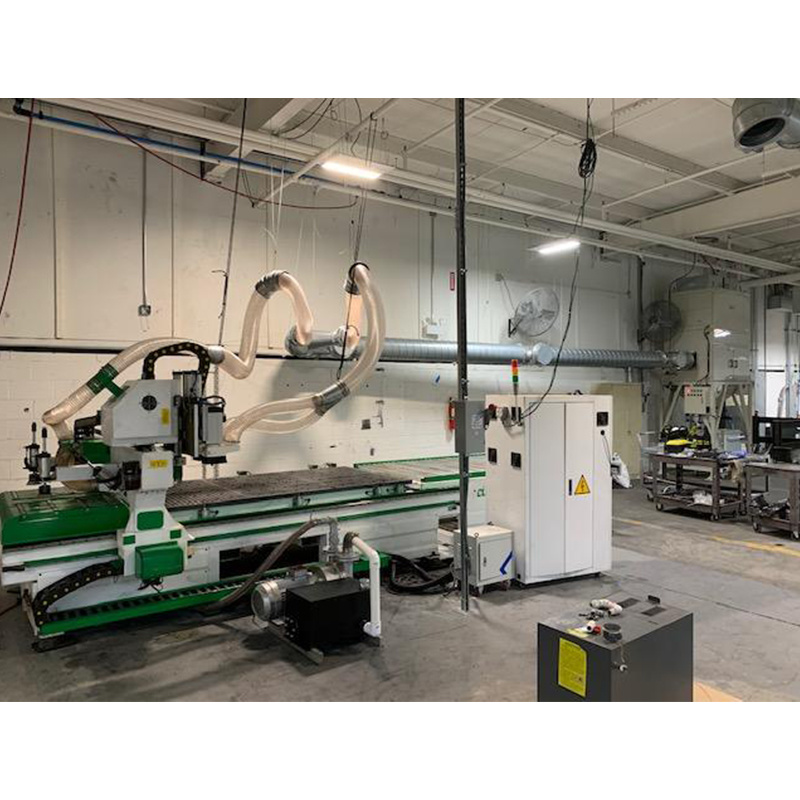 Certifications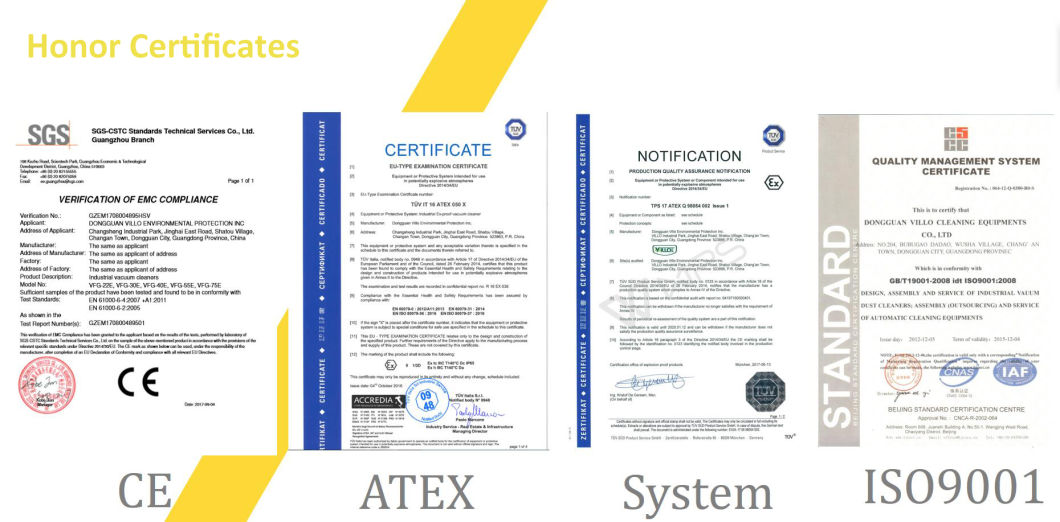 Our Company