Carbon Steel Plasma Cutting Fume Extractor Dust Collection System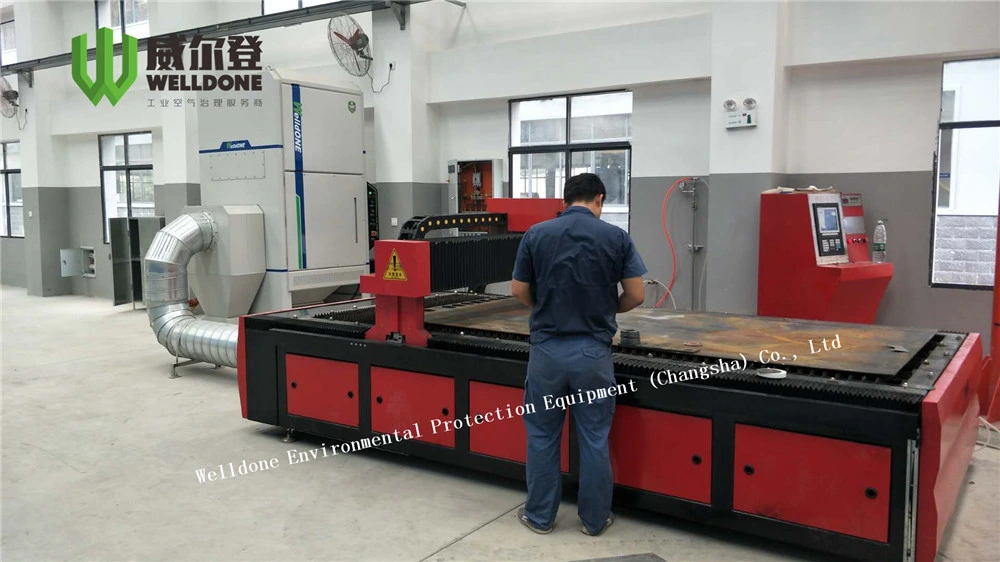 Part 1: fume extractor application
Plasma cutting is different from Welding or laser cutting. It have more fume during working. Choosing one good quality dust collector is very meaningful. Welldone can offer the most effective solution according to the working condition, and decrease the plasma fume damage to production.
Part 2: Techinical discription
The side suction type dust remover system for gantry cutting machine is mostly used in plasma cutter fume extractor. Add one suction air tube and suction air mouth on one side of the cutting table, the other side fixed blow air devices; Or add tube sand suction air mouths on each side of the cutting table. The suction air mouth can move with the cutting head. When the cutting nozzle working, the fume can be sucked through the suction air mouth. The sealed belt is used to make sure no fume spread. When the suction nozzle moved, the wheel move with it will open the suction air mouth. The fume been collected to the dust collector.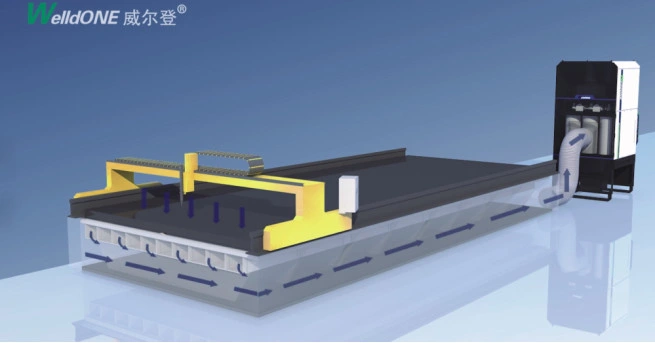 Part 3: WLC series machine feature
(1)End cap filter cartridge with PTFE(polytetrafluoroethylene) layer, high effciency, and easy to replace.
(2)Integrated design-fan,motor and filtering in one body, small size, low noise(less than 65db), easy maintenance and lower cost.
(3)The light color design makes the vision more lively.
(4)Energy consumption and heat rate are 10% lower than domestic electric motors.
(5)PLC control system, longer service life and easily installation.
(6)Application-welding fume,plasma and laser cutting, polishing and so on.
(7)Air volume 4000~16000m3/h for choose; 3 years warranty on fan and motor/1years warranty on filter......
........
Part 4: Techical parameter of
Carbon Steel Plasma Cutting Fume Extractor Dust Collection System
| | | | | | |
| --- | --- | --- | --- | --- | --- |
| Mode | WLC-4YT | WLC-6YT | WLC-9YT | WLC-12YT | WLC-16YT |
| Voltage/Phase/frequency | 380V/3PH/50HZ | 380V/3PH/50HZ | 380V/3PH/50HZ | 380V/3PH/50HZ | 380V/3PH/50HZ |
| Air volume | 4000m³/h | 6000m³/h | 9000m³/h | 12000m³/h | 16000m³/h |
| Engine power | 5.5kw | 7.5kw | 11kw | 15kw | 18.5kw |
| Filter efficiency | 99.99% | 99.99% | 99.99% | 99.99% | 99.99% |
| Filter | 4-Φ324*860mm | 6-Φ324*860mm | 9-Φ324*860mm | 12-Φ324*860mm | 16-Φ324*860mm |
| Anti-blow valve quantity | 4 | 6 | 9 | 12 | 16 |
| Ash bucket capacity | 40L | 60L | 60L | 114L | 2*81L |
| dB | <75db | <75db | <75db | <80db | <85db |
| Compressed air requirement | 0.5-0.6MPa | 0.5-0.6MPa | 0.5-0.6MPa | 0.5-0.6MPa | 0.5-0.6MPa |
| Outside demension | 1100*1100*2600mm | 1200*1320*2720mm | 1450*1450*2720mm | 1550*1690*2870mm | 1980*1690*2870mm |
| Air intake demension | Φ350mm | Φ380mm | Φ450mm | Φ550mm | Φ600mm |
| Option | Anti-explosion | Anti-explosion | Anti-explosion | Anti-explosion | Anti-explosion |
| Option | Frequency conversion | Frequency conversion | Frequency conversion | Frequency conversion | Frequency conversion |
| Option | Wireless remote control | Wireless remote control | Wireless remote control | Wireless remote control | Wireless remote control |
| Option | Activated carbon filtration | Activated carbon filtration | Activated carbon filtration | Activated carbon filtration | Activated carbon filtration |
Part 5: Application cases pictures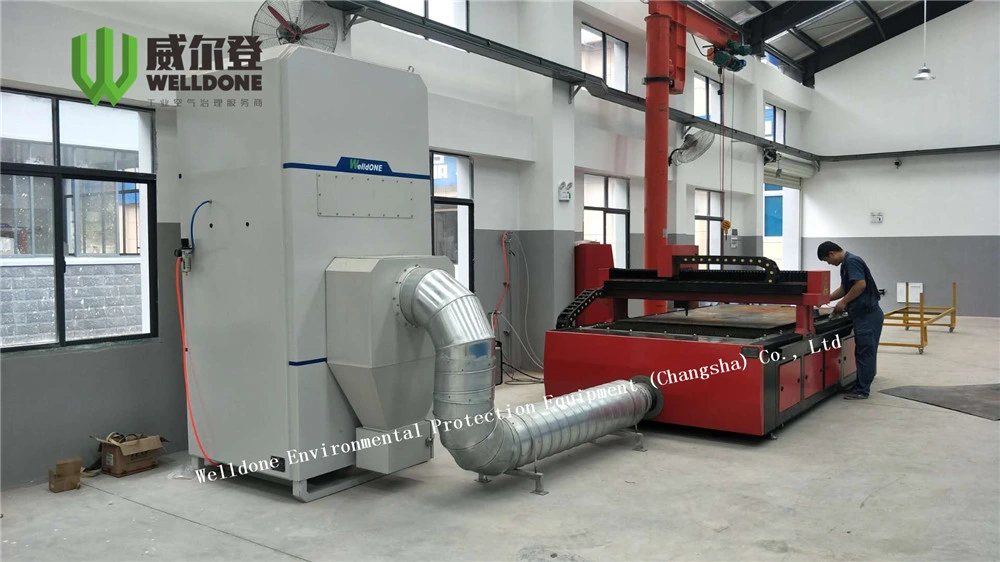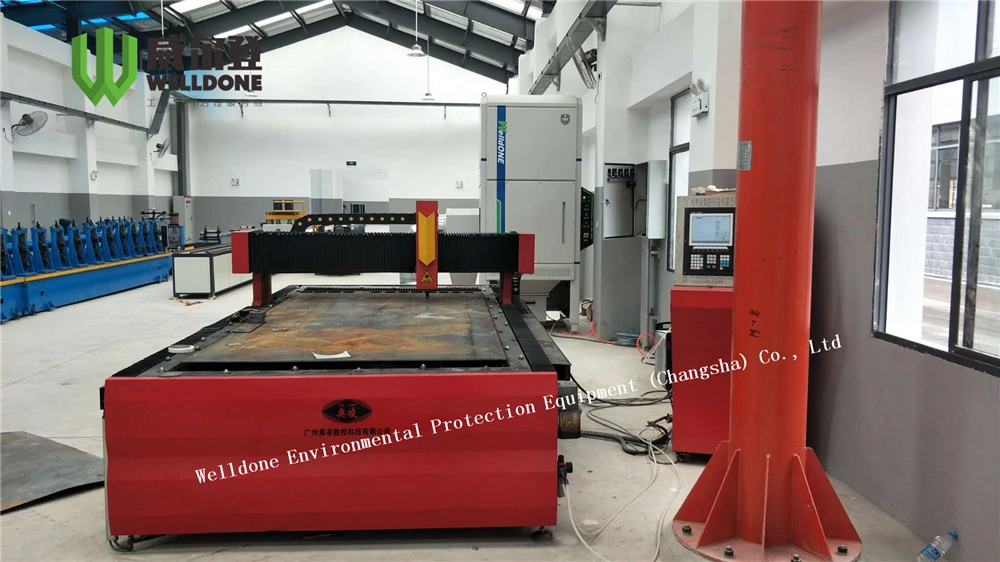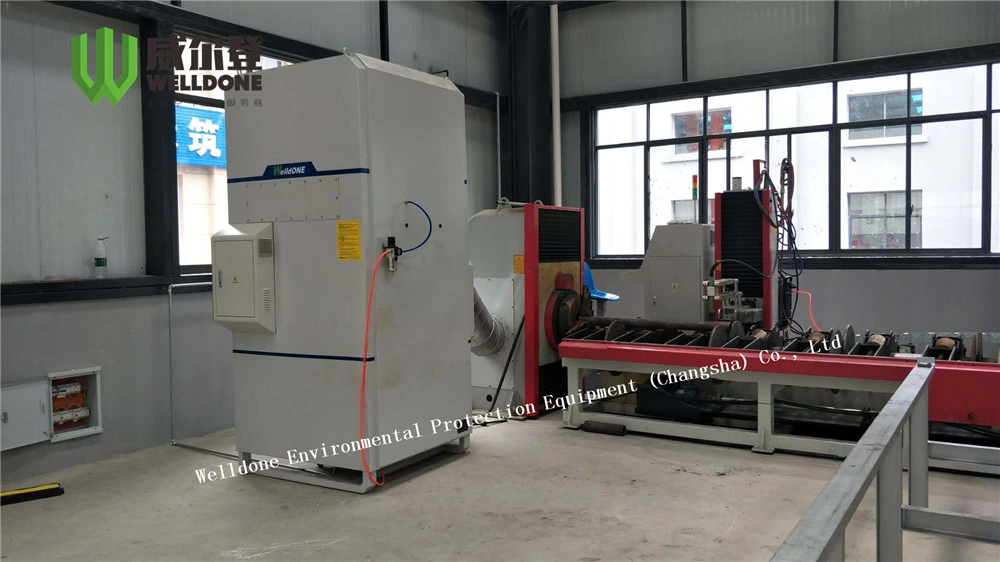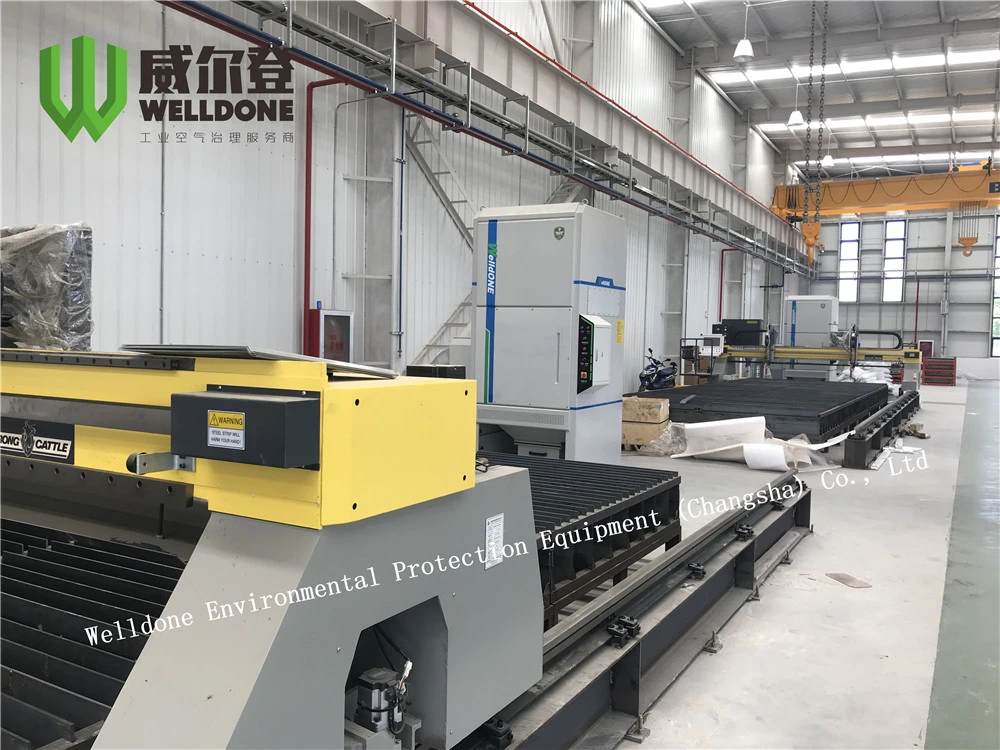 Part 6: Why choose Welldone?


1.Patent design, CE, ISO9001, ISO14001, and OHSAS18001 certificate approved.
2.Fine details design, like 2-3mm thickness metal, 80mm noise damping cutton...
3.Advanced patent design filter, 0.02-99.9% efficiency, 8000h lifetime. PTFE coated, Import from Japan. easy pass government inspection
4.Famous machine components.
5.3 years warranty on fan and motor, 1 years warranty on filter
6. Manufacture directly sales, lower price, better services and easy maintance.
.......

Part 7: Company introduction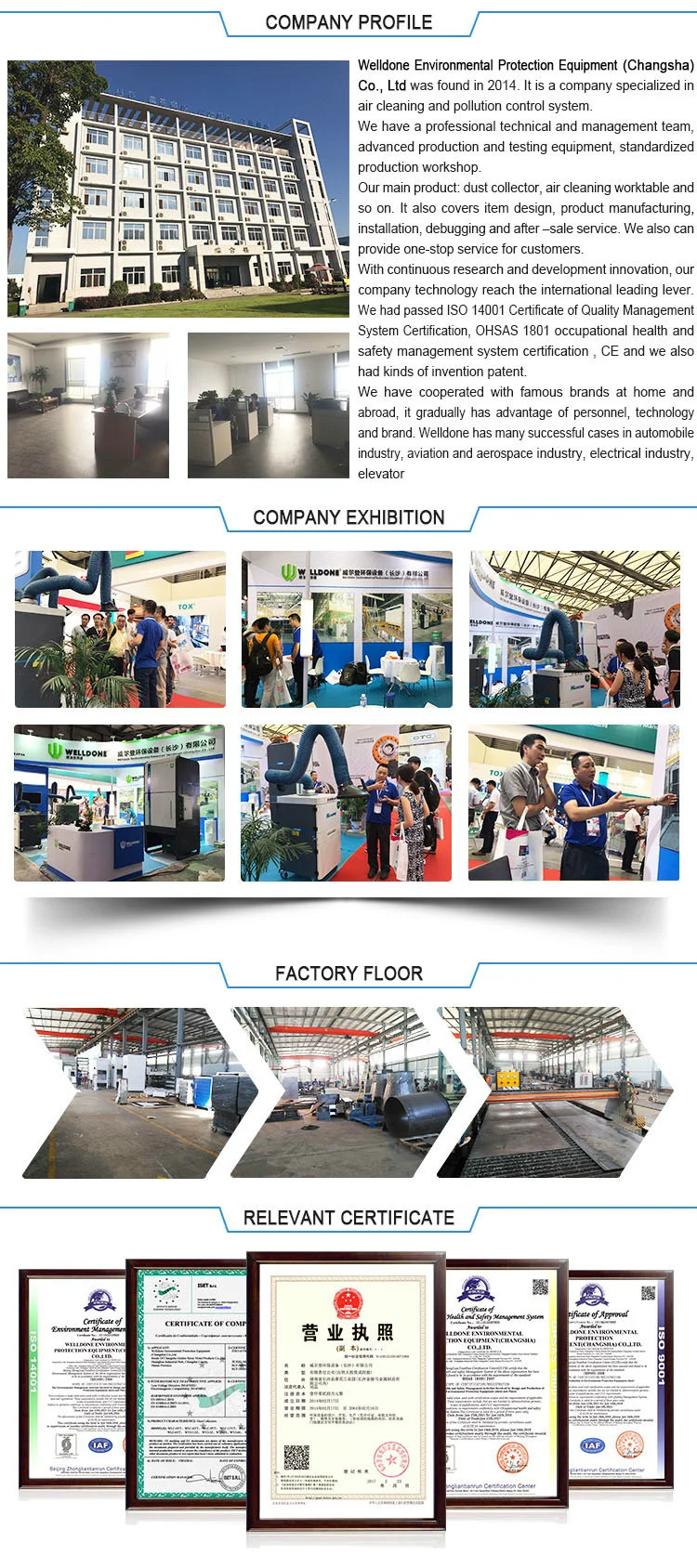 Quickly contact us if you are interest
ed in
our products:
Tel
: +86 0731-86398162
Welldone Environmental Protection Equipment (Changsha) Co., Ltd
Website:
welldoneexport.en.made-in-china.com