An axial fan is a fan in which the exhausted air is forced to move parallel to the shaft around which the blades rotate. Centrifugal fans draw air at right angles to the inlet of the fan and drive the air outward to the outlet by deflection and centrifugal force.
We supply HIGH -PRESSURE BLOWERS for various industrial applications.Advantages:
24*7 hours online service

More than 100 customers visited us and felt very satisfied

Exported to over 80 countries

CE,ISO,SGS,ETA,MA,AMCA

Live video for the workshop by WhatsApp wechat or youtube.

Oversee technical support at your site

Better customers' experience after sales: we visit our customer each year

Production according to your drawing(2D/3D)

Famous motor brand(Siemens/ABB/TECO/WEG)

High standard quality control- Testing video/Testing report available

Welding / Materials testing report available

Surface Treatment: automatic electrostatic powder coating ( ie spray) or spray paint.

Corrosion protection and rust removal treatment

Tracking number for each equipment available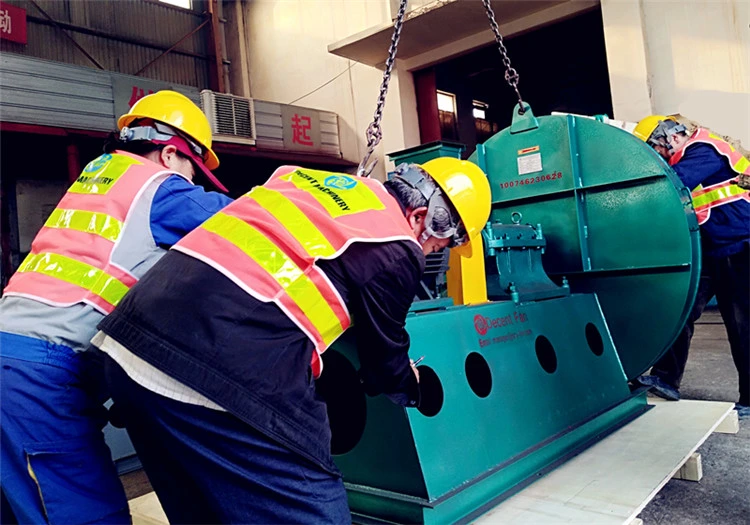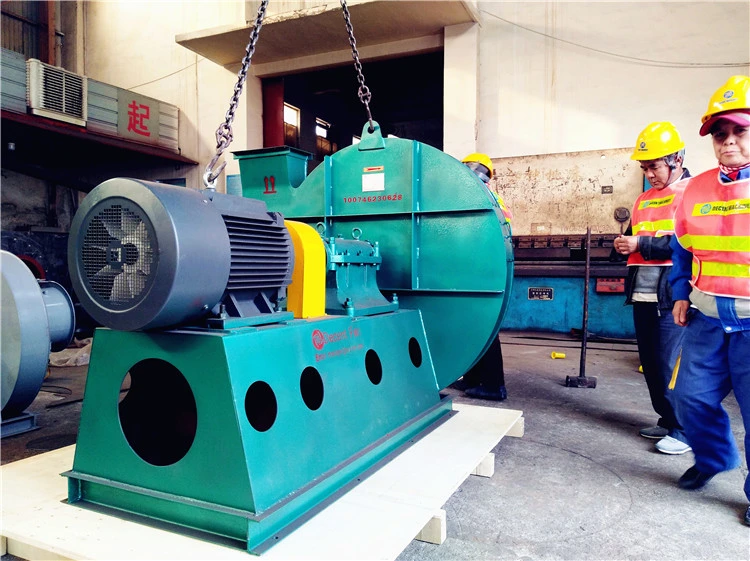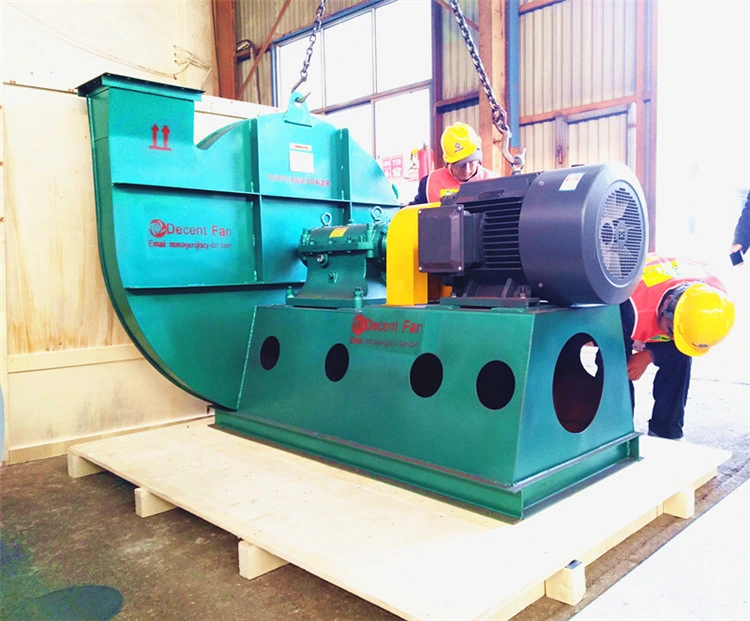 Feature:




• IP 55/65




•

50hz/60hz




•

Corrosion

Proof




•

220v/380v/415v/440v/660v/1140v
• 1450RPM/960RPM/720RPM/590RPM
• High Temperature Proof (up to 500 °C)
• Each fan's impeller has been well dynamic balanced.
Structure:
♦ Impeller Type: Backward/Forward/ radial blade
♦ Driving Mode: Direct/belt/Coupling drivetrain
♦ System Type: Single inlet type, Overhang type.
♦ Cooling Type: Air cooling/Circulating Water cooling
♦ Bearing Lubrication Methods: Grease lubricating/Oil bath lubrication
Motor Brand: ABB /Siemens /Baldor / Teco/ Westinghouse Motor
♦ Basic Components:
Motor, Impeller, Impeller cone (Air Inlet), Case, Main shaft,
Bearing, Bearing housing, Pin coupling, Foundation bolt.
System monitoring Instrument, Lube system, Overhead lube tank...
Application:
Building ventilation/Oven exhaust/Drying system
Moisture blow-off/Fume removal/Glass tempering
Spray-booth exhaust/Air curtains/Cooling
Dust collection/Air recirculation/Pneumatic conveying
Combustion air /Food processing


Ventilating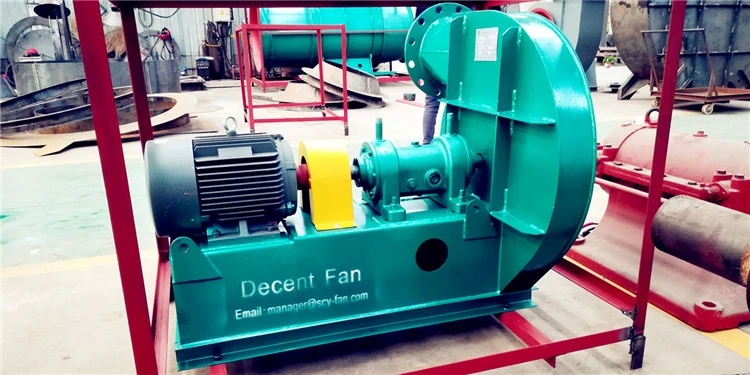 Forced ventilating, Building ventilating, Mine ventilating, Tunnel ventilating, Materials ventilating and drying.
♦ Cooling and heat dissipation
Forced cooling and heat dissipation, Industrial equipments cooling and heat dissipation.
♦ Air purification and industrial waste gas treatment, Air filtration system, Flue gas desulfurization, Flue gas denitrification.
♦
Boiler's
air supply and exhaust (Coal-fired boiler, Biomass boiler, Garbage incinerator, CFB boiler, Stokerfeed boiler.).
♦
Industrial boiler
blowing air, Industrial boiler inducing air, Industrial boiler primary air, Industrial boiler secondary air.
♦
Industrial boiler
waste gas desulfurization, Industrial boiler flue gas denitrification.
♦ Industrial kilns
Inducing air of Cement rotary kiln, Lime rotary kiln, Nickel iron rotary kiln, Clay sand rotary kiln, and other various calcining kilns.
Garbage incinerator blowing air, Garbage incinerator inducing air, Brick kiln inducing air.
Ventilating of cement mill, Coal mill and other large mill system.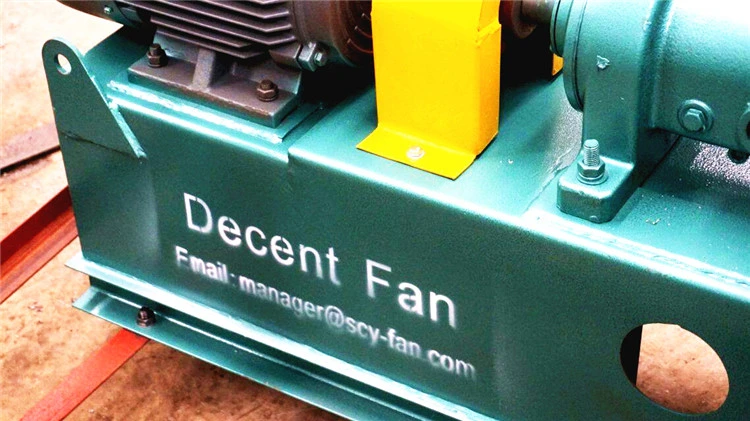 ♦ Energy and power: Thermal power plant, Garbage incineration power plant, Biomass fuel power plant, Industrial waste heat recovery device.
♦ Metal smelting: Blowing air of mineral powder sintering(Sintering machine), Furnace coke production(Furnace coke oven).
♦ Gas and materials delivery: General air delivery, High-temperature air delivery, Combustible gas delivery, Corrosive gas delivery, Gas mixed with impurity delivery.
Delivery of coal powder, Particle material/ Powder material/ Fragment materials/Fiber materials.
♦ Other:Pressurization and decompression seal of industrial equipment, Recovery of industrial waste gas, Supply air and drying of food and drug production line.
Characteristics of Single Inlet Industrial Boiler Centrifugal Exhaust Fan 2500 cfm
♦ Outputting higher gas pressure, and providing larger air flow volume, low noise.
♦ Blades angle going through optimizing design, higher wear resistant, longer service life.
♦ Can flexibly adjust fan's volume and pressure in running by air damper. Can also adjust fan's pressure and volume by changing the fan speed via matching variable frequency motor.
♦ In the case of using system base, so easy for installation, no need of professionals direction.
♦ Transmission efficiency higher than belt driving's, much lower of fan system energy loss.
♦ Flexible connection for motor shaft and transmission shaft, no need to tension or change the belt, low maintenance work exhaust fan
.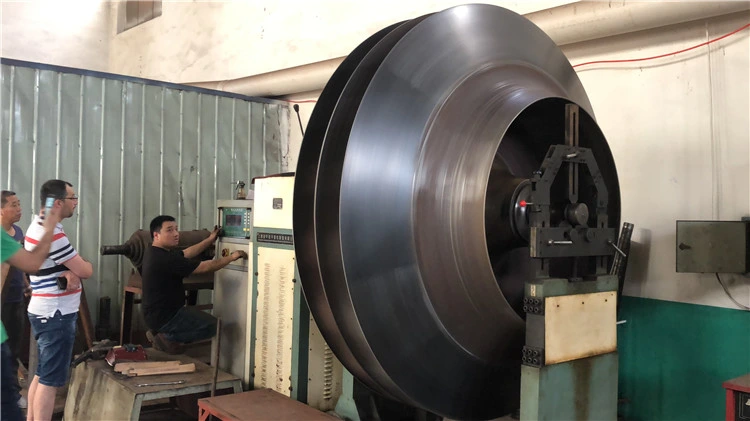 ♦ Fan system whose impeller's diameter below 1400mm, is not needed to match bearing cooling device, can reduce the customer's cost and maintenance work.
♦ Can satisfy different dust loading conditions that low dust loading to a good deal dust loading, the surface hardness of impeller can reach to HRC60~70 after special processing, greatly extending impeller's service life.
♦ Using liquid lubricating oil, no need to open bearing housing when changing or filling lubricating oil. Easy to observe the lubricating oil's quality and stock through inspection window on the bearing housing body of exhaust fan
♦ Bearing housing reserves installation place for temperature and vibration sensors, can install easily of fan running monitoring device.
♦ Bearing housing adopt labyrinth type mechanical seal, unique design of spill prevention of inner, vent hole design on top, commis-sure coated with sealing grease, completely eliminating bearing housing oil leak.
♦ Selecting high efficiency energy saving motor of Chinese leading motor manufacturer( or customer required), reliable quality, low energy consumption.
♦ The motor load can be automatically reduced when airflow resistance is increasing, to prevent motor from destroying.
♦ Customizing design according to customer's performance requirements, and optimizing by CFD technology, energy consumption lower than same fans.
♦ Adopting high quality carbon steel manufacturing, or stainless steel and other metal materials according to customers' requirements.
♦ Fitting tightly of parts, good sealing, ensuring no reducing of output pressure.
♦ Impeller of annealing treatment, completely eliminating structure of internal stress when welding, ensuring impeller appearance won't occur creepage and flaw.
♦ The welding line of impeller and main shaft passed ultrasonic flaw detection, ensuring no defect of welding and materials, guarantee strength.
♦ Impeller passed high standard dynamic balancing, ensuring stable running of fan.
♦ Running test and vibration value test for fans after finishing manufacturing, ensuring running reliably.
♦ Various optional components for your selection.
High temperature cfb boiler blower fan

Performance

Pressure range

1157~15344

Pa

Air flow range

3242~339712

m3/h
Impeller diameter

400~2600

mm

Speed

730~2900

rpm

Material

cfb boiler blower fan case

Q235, Q345, stainless steel

Design as special

cfb boiler blower fan shaft

45# steel, Q304, SS304,SS316L

cfb boiler blower fan impeller

Q304, 12Cr1Mov,15Crmov, 15MnV

Medium

10---500ºC

Dustiness<80 g/m3

incombustible

Motor

Siemens, ABB, WN, SIMO, LA

IP 54,55,56

3 phase

Optional

System base frame, Protective screening,

Components

Silencer, Inlet & Outlet pipeline compensator,

Inlet & Outlet flange, Damper, Electric actuator,

Shock isolator, Diaphragm coupling, Fluid coupling,

Motor rain cover, Temperature sensor, Vibrating sensor,

Soft starter, Inverter, Special Electrical Motor,

System monitoring Instrument,

Lube system, Overhead lube tank.
FAQ:
1.Price Term:FOB,CFR,CIF.
2.Professional engineers team will help you find solutions .
3.12 months warranty and long-term marketing, after-sale support.
4.Certifigation of Origin, Form A, Form E, Form B, Form P, Form F, Form N, Form X offered to Help you save duty cost.
5.24 hours service online,
If any question, please contact with us freely by e-mail or telephone.
6.Our minimum order quantity is just only 1 piece, so you can order one sample to test quality ,if good ,can order more.
7. We have full stock, and can deliver within short time. Many styles for your choices.
8. OEM and ODM order are accepted, any kind of logo printing or design are available.
9. Good Quality + Factory Price + Quick Response + Reliable Service, is what we are trying best to offer you.
What Should I offer to Order? Please advice following:

1

Air Flow/Volume

2

Voltage:

3

Frequency:

4

Temperature

5

Pressure

6

Attitude of Operation Place