Welding fume extraction system welding fume extractor with flexible suction arm

Working Principle
The fume comes from the processing will be sucked into the extractor through the hood, first the fume passes the 1st layer preventer plate which will ramify the fume to avoid residual sparks enter into filter layer directly. Finally, the fume enters the second layer of HEPA filter cartridge for ultimate purification, and HEPA' s filtration efficiency can reach 99.9%. As the filtering precision of the main filter cartridge reaches the indoor emission standard, the filtered clean air can be directly discharged indoor via the vent in the bottom of the extractor.

Product introduction
Incorporated world leading environmental technology, economical mobile fume extractor is a technically advanced industrial dust & fume extractor, it's developed with full consideration of the forming, characteristics and harm of fumes and based on actual conditions of cutting and welding workshop.

Main feature
1. Suction arm can be rotated 360° horizontally, according to actual working condition, suction volume can be adjusted by adjusting volume valve in suction hood.
2. This product adopted world leading imported material of wood fiber filtering, for dust (above 0.3μm) filtration efficiency reaches 99.9%, meanwhile maintain a high air flow. It is ideal for purifying dry, oil-free, non-corrosive fume mixture generated in cutting and welding, collecting rare metals and valuable materials.
3. Depending on needs, 2m, 3m flexible suction arm are available.
Technical parameters
| | | |
| --- | --- | --- |
| No. | Item | Parameter |
| 1 | Fan type | Centrifugal fan |
| 2 | Treatment of air flow | 1300±50 m3/h |
| 3 | Motor power | 0.7 kW |
| 4 | Power supply | 220V ~/50Hz |
| 5 | Initial efficiency filter | 1 pc 1m² |
| 6 | Medium efficiency filter | 1 pc 7m² |
| 7 | High efficiency filter | 1 pc 7m² |
| 8 | Total filtration area | 15 m2 |
| 9 | Filter medium | Synthetic wood pulp fiber filter paper +membrane |
| 10 | Cleaning method | Discharging the filter to clean |
| 11 | Noise | 62±5dB(A) |
| 12 | Air pressure | 1900 Pa |
| 13 | One suction arm | Ø160mm*2m |
| 14 | Weight (excluding suction arm) | 138±5KG |
| 15 | Dimensions(excluding suction arm) | 660×750×1200mm |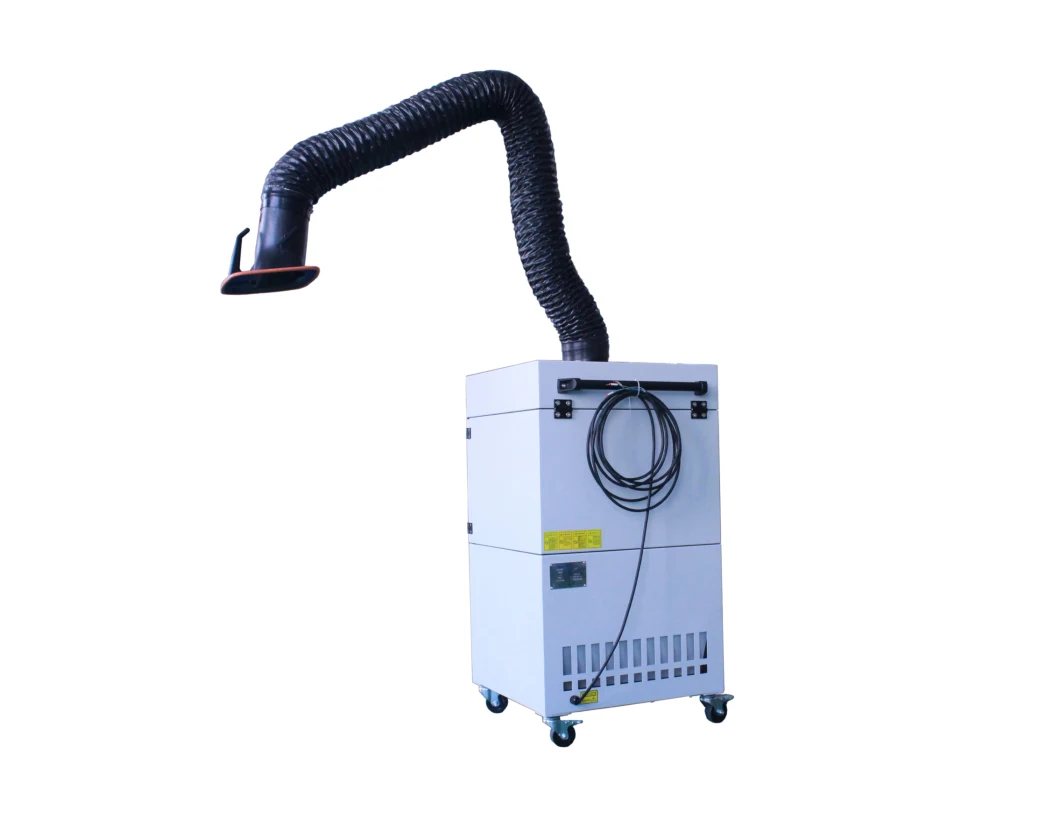 Company profile